Rules & Procedures
To reach nomination level at the first round, your work will be viewed and voted upon by past nominees and winners for each particular category and craft. This first round of voting decides the nominees for all given categories and crafts. After nominee announcement, the works participate in a second round of voting joined by judges in West Michigan, Los Angeles and Sydney, Australia. These judges in other cities are industry professionals invited by the Eclipse Board of Governors to join industry professionals in West Michigan who are past nominees and winners and together decide by the tally of votes which work receives an Eclipse Award.
Please note that entry is not a guarantee of a nomination or a win.

In Categories, the nomination and final award will be based on the overall excellence of the work submitted, not merely the technical excellence, but also the treatment of the content. In Categories, only the Producer(s) receive the nomination and award.

In the crafts, the nomination and final award is based on the technical excellence achieved in the craft. For the Crafts, (Writing, Sound, Cinematography, Acting, etc.) the Artist receives the nomination and award.
After Nominations, voting then proceeds onto the second round. It is in this second round that the nominees in each category are selected for the final award. The results of the tabulation of votes are kept secret until the night of the awards ceremony.

There is no student category or craft consideration. Higher learning students are encouraged to compete, however.
frequently asked questions
Important Dates
NOV 21st, 2016
- Call for Entries Window Opens


MAR 27th, 2017 5pm
- Entry Window Closes
- 1st Round of Voting Begins
APR 17th, 2017
- Nominees Announced via Comcast Cable 24 & Live Stream via website
- 2nd Round of voting begins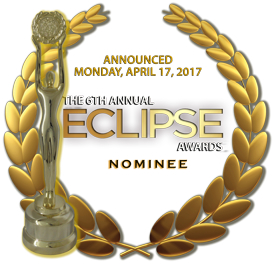 MAY 1st, 2017
- 2nd Round of Voting Ends
- Totals kept secret until formal awards ceremony
MAY 15th, 2017
- The Eclipse Lounge Nominees Gathering
MAY 18th, 2017 6:30 pm
- The 6th Annual Eclipse Awards
- Afterglow immediately following
The Crafts
For the Crafts, the Artist receives the nomination and award.

Direction

Writing
in produced content

Cinematography
and Videography

Editing

Visual Effects
Both CGI and Makeup

Original Scoring
Applies to original music written for narrative or documentary storytelling.

Animation

Sound Design

Acting
in Lead Role

Acting
in Supporting Role
enter your work
Primary Categories
For the Primary Categories, the Producer receives the nomination and award.




Film & Digital
a.) Narrative Feature length (50+ minutes)
b.) Narrative Short
c.) Cinema Trailer
d.) Documentary (less than 20 minutes)
d.) Documentary (feature length)

Television (Broadcast & Cable)
a.) Local TV & Cable (one hour time slot)
b.) Local TV & Cable (30 minute time slot)
c.) Local & Regional Segments & Promotional Pieces (under 20 minutes)*

*Please note, Promotional Pieces no longer includes any branded content promoting products or services, except in the case of non-profits.
Music Video Original Performance
Original Performances only. For Original Score, see Craft categories.
On-line
On-line programs, Segments or Promotional Pieces
enter your work